…made by hand, playable artwork, each one unique. "You gotta hear one"

I'm telling you, when you pick one up and start playing it, you won't want to put it down. That's just the way it is…You will find your self just strummin' away to the bluesy drone so that it becomes almost hypnotic, and you'll wonder where the time went.
My hand-made cigar box guitars are fully playable guitars that capture the authentic sound of that down home, front porch delta blues. Not just playable, but also a piece of art that looks just as good on your wall as it does in your hands. People will ask about it, wonder what it could possibly sound like….and that's when you take it down and start strummin'. Your style and technique will get stripped down to the bare essentials. When you put a slide on your finger and start playing, the sound of the delta blues just comes out naturally. Even If you don't play the guitar, the cigar box guitar is a piece of art in itself. It could look great in your smoking den or on any wall as a conversation piece. Custom orders for a guitar made from your favorite brand of cigar or for custom painted artwork are always welcome. I'll create a piece of art for you that will truly be one-of-a-kind. Each piece hand-made and custom painted by Jason Farthing.
The ORIGINAL Finish-it-Yourself Cigar Box Guitar KIT, Including the Neck…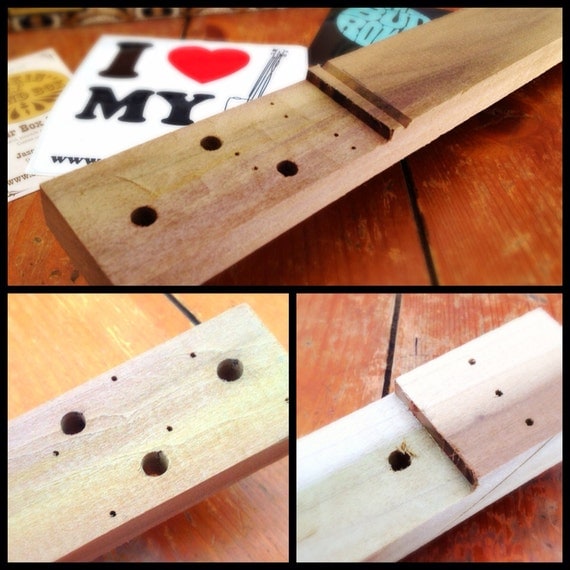 NEW! Deluxe Piezo Pickup Kit – $19.00

(Electrify your Cigar Box Guitar)
It doesn't get any easier than these Dual Piezo pickup discs with peel and stick self-adhesive, volume and tone controls, and prewired to a 1/4″ inch input jack. Electrify your playing and get that raw, swampy sound from your cigar box guitar. You can also easily electrify your ukulele or mandolin,…even your washtub bass or washboard!
Use a 5/16 inch drill bit for the volume and tone controls, and a 3/8 inch drill bit for the input jack. Peel and stick the discs inside your guitar and you're done. Easy.
Pro tip: use a layer of hot glue to seal up the pick up to reduce outside noises.
See installation video here on Soundbox Guitars
Make it electric and make it heard!!!
ONLY $19.00 (click here to buy NOW!)
Email me: jason@soundboxguitars.com