As the saying goes… "no news, is good news",… or is it, "there is no such thing as bad press" ??? Either way, here are a few stories to browse.
Cigar Aficionado, April Issue 2012 – 'Made for You'
Cigar Guitars – Smokin' Lil' Sound Box – For many of us this is the fusion of our two passions: guitars made from cigar boxes. Artist and Delta Blues enthusiast Jason Farthing makes four-string guitars that are as functional as instruments as they are as examples of the long and fascinating history or cigar packaging. Meant to be played in a slide, open-tuned style, these instruments are a very learner-friendly. And the website even explains how to make …
A Handmade Sound from a Down-home Band – Laguna Beach Independent, 8-10-2012
For the uninitiated, cigar box guitars, which hail from an old folk tradition in the South, are homemade guitars assembled from a variety of local materials, the body being a discarded cigar box. "It's a found object style," Farthing says.
-Justin Swanson, Laguna Beach Independent
Smokin' Lil' Cigar Box Guitars – Ten57 Magazine, 4-19-2012
By its nature, the cigar-box guitar is historically – and for lack of a better term – a "poor man's" instrument, with its roots dating back to the mid-1840s. Although individuals who crafted cigar-box guitars, fiddles, banjos and other chordophone instruments may have lacked money to buy the "proper" versions, they were not lacking in their thriftiness, resourcefulness or ingenuity – traits that Farthing seems to possess.
"Sweet Home Laguna" – Coastline Pilot, Laguna Beach, 9-10-2010
The blend of Farthing's handmade cigar box guitar, kick drum and tambourine and Rivera's powerful voice, captures the sound of that "down home, front porch delta blues."

– Ashley Breeding – Coastline Pilot
Cigar Box Blues to Stomp Santa Ana…, – New Santa Ana, 11-11-2011
NEWS SANTA ANA, online magazine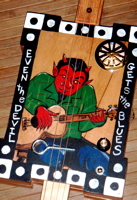 Sure as molasses is slow, this band has the ability to transform any venue into a bonafide deep south juke joint, complete with a foot-stompin', testifyin' audience…